PJ8C, $299 -- new batch available now
PJ8C flies in Bobcat 52

I've fitted a PJ8C into a Chinese ARF Bobcat 52 and started the test-flights.

Because the engine is mounted part-way inside the fuselage, I had to add some ducts so that it can breathe. Originally I tried to use some low-drag NACA ducts but they didn't supply enough air so I added scoops, which improved things but the engine is still starving for air.

The next step is some internal ducting to direct the incoming air towards the engine's intake.

But enjoy the video of progress to date:

How fast?
Here's the latest video of my PJ8C-powered Long-EZ ARF flying.

I swapped out the original first-prototype for the second prototype on which all production engines are based. This is now one seriously-fast RC model.

There are many turbine-powered models costing thousands of dollars which can't keep up with this low-cost jet-powered ARF and instead of using expensive, harder to get jet-fuel mixed expensive turbine oil, the PJ8C runs on regular gasoline from the pump at your local garage.

Or you can watch it in high quality by clicking this link: Very fast PJ8C-powered Long-EZ ARF

See how the PJ8C is made
Quite a few folks have asked to see how the PJ8C is made so I've created a page with a few pictures and a brief description of how I build these engines. If you're curious, check out the How the PJ8C is made page.

How do pulsejets work?
Although I've written a lot about pulsejet engines, one of the questions I still get asked most often is "how do they work". To answer this I've created the following YouTube video. I hope it will explain all.

Limited number of new PJ8C ceramic-coated engines available
I have a small quantity of the new redesigned PJ8C engines and other accessories for sale.
There's never been a cheaper way to get into jet-powered RC model flying.
Ceramic coating and pulsejets
One of the big problems with pulsejet engines is that they run very, very hot -- soemthing that often limits their application and reduces their operation life.
To help reduce this problem, I'm now using a ceramic coating (which the manufacturer claims is also used by NASA) on the inside of my engines which protects the metal from exposure to hot combustion gases and also provides a measure of insulation -- effectively improving efficiency and reducing external operating temperatures.
More to follow on this...
The new PJ8 takes to the air (update)
An updated version of my PJ8 design has been test-flown in a cheap Chinese Long-EZ ARF. (and a special version for the BobCat 50 ARF should be ready in a week or two).
The fuel-bubble issues have been sorted now and I have been able to enjoy some much longer flights with the PJ8/Long-EZ combination.
As you can see in the new video (below), the PJ8 is a good match for the Long-EZ airframe. The reed valve that has now done quite a few flights and much static ground-running (while fixing up the fuel system) finally expired on this flight - you can year it starting to sound a bit odd near the end of the flight before I cut the engine.
Because the Long-EZ doesn't have a tail, it was very easy to modify for pulsejet power.
More video of the Long-EZ will be posted soon and the updated plans will be added to my Pulsejet Book.
At last, ECU for pulsejets

An interesting project I've been working recently is an Engine Control Unit for pulsejet engines.
Lots of folks have talked about using electronics to provide better control of pulsejet engines but, to the best of my knowledge, nobody has actually done so to date, or at least not until now.
The circuit you see in this picture is a rough and ready (but fully functional) prototype of my pulsejet ECU system.
Although it looks a bit like a bird's-nest of wires and components, this ECU does some very clever stuff. For example, it actually listens to each combustion cycle using a transducer. That information (along with other data such as temperature, mass-flow and thrust) is constantly monitored and used to fine-tune the engine's operation and ensure maximum performance is achieved at all points on the power-curve.
The ECU also supports fully automated start/restart and shutdown for engines using gas and/or liquid fuel.
Right now I'm designing the final circuit board which will see all that mess condensed down to a unit about the size of a credit-card.
Stay tuned for more information and some video of the ECU in action.
I'm back!
After a long time away from my pulsejet projects I'm back!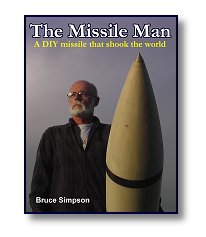 This site will be getting a major facelift pretty soon and I'll be showing you some of the cool stuff I've been working on in the pulsejet area.
I'm currently preparing a new XJet prototype that will be shipped off to a university for testing and validation of the performance, this being the final step before commercial production.
And I've also been very busy writing my book which is chock-full of stuff that any tech-head will find both entertaining and interesting.
If you missed it, I see that the epsiode of ScrapHeap Challenge in which I appeared as an "expert" and directed a team of Navy engineers in their task of building and racing a pulse-jet powered vehicle has been uploaded to YouTube. Links to these videos are on my Scrapheap Challenge page.
The biggest, meanest pulsejet dragster ever!
UPDATE: we've had our first short runs in the dragster and it is, in a word, "frightening"!
And here, as promised, are a few pictures of the tentative first few runs.
The power to weight ratio is extremely good, producing some really astounding acceleration, and the noise is astonishing -- especially when the engines lose synchronization and a beat-frequency can clearly be heard modulating the level of sound and vibration.

One thing that immediately became apparent however, is that if the engines do lose synchronization, there's a definite tendency for the exhaust of one to be ingested by the other, resulting in a premature flame-out.

This problem will be significantly reduced when the augmentors are added but in the meantime, a simple dividing plate between the two intake pipes seems to have dramatically reduced the magnitude of the problem -- albeit while making the engines less likely to sync-up in the first place.

It's been quite a while since I updated this website but I've been very busy in the workshop. Here's a picture of what I've currently got under construction:
This monster is powered by two enhanced Lockwood valveless pulsejets which have been tested to produce 150lbs of thrust each in an unaugmented configuration when run on propane.

Early tests on Jet A1 indicate that this thrust can be lifted to around 180lbs each and, with the addition of an augmentor, a figure of around 220lbs of static thrust per engine should be possible -- for a total of 440lbs.

The entire vehicle currently weighs in at under 180lbs so I'm expecting some pretty impressive acceleration and speed.

I'll be posting more pictures in the next week or so.

Note that this engine design has been licensed to a New Zealand company (SimpleJets) who have already started manufacturing.

Pulsejet CD download option
The entire contents of The Enthusiast's Guide to Pulsejet Engines will soon be available for download by those who wish to purchase (or have already purchased) it. This means you'll get faster access to all that interesting information and a wealth of detailed information on the history, design and construction of real pulsejet engines.

New No-weld pulsejet engine design

It's already on the CD, complete with a VCD-quality video, and soon I'll be uploading a set of somewhat more basic instructions which means anyone can build this pulsejet in their own garage with just a few hand-tools.
Now there's no excuse for not building your own engine!
Pulsejet Book on CD Revised
If you've already got my book on CD, you will shortly be receiving another disk containing a freshly revised edition with even more information and plans. More information can be found here.
TV Crews All Over The Place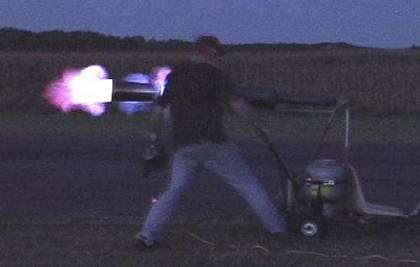 Over the past six weeks or so I've had TV crews here on a fairly regular basis. They've been filming a couple of items on me and my jet engine activities. Unfortunately, this footage is unlikely to be seen outside of New Zealand but we did some really cool night-runs with the JetKart that looked very impressive.
This shot in particular shows how a vortex forms in the exhaust of the pulsejet during the exhaust phase.
I'll post some more pictures from these night-shoots in a week or so when I've had a chance to dump it onto my computer.

Kids, do not try this at home -- I am just crazy
The Pulsejet Book Is Finished!
At long last I have finished the final edition of what is perhaps Yes, at long last, and thanks to the feedback from many readers of the draft edition, the final version of "The Enthusiast's Guide to Pulsejet Engines" is completed and available on CD. The printed edition will be available as a seperate item for those who prefer ink stains on dead trees. Those who have already received a copy of the draft can upgrade to the final version for a nominal amount More information
Make A Donation?
If you find this website to be of some value and would like to see it regularly updated with the results of my work, please don't hesitate to dip into your pocket and make a donation. Thanks to my conflict with the NZ Government over my DIY Cruise Missile project, I'm currently reliant on the goodwill and donations of supporters to continue my reasearch and update this site. Just click on the button to contribute an amount (large or small) that reflects the value you think you've obtained from this site.

To see what's new on this site, check out the Master Index page each time you visit.
If you're looking to build a jet-powered gokart or small vehicle and you want the help of the guys who featured in the JetRacers edition of Scrapheap Challenge then you really ought to get The Expert's CD.
This is a disk chock-full of plans, step-by-step instructions, videos and a wealth of other information that contains all the information you'll ever need to build your own pulsejet or turbo-jet powered vehicle. You'll also find out exactly what goes on behind the secenes of this great TV series.
Pulsejet with Afterburner??

A lot of people have asked me whether you can fit an afterburner to a pulsejet and I've always told them "no, it won't work." However, I've never been one to be put off by being told something won't work -- so I tried it. Read more about it.

Guess Who Helped On Junkyard Wars?
Yes, although you didn't see my ugly face this time, I was there, behind the scenes working a a technical consultant during the filming of the DragBoats episode of Junkyard Wars. I was the one who designed the big pulsejet that featured in that episode, you can find out a little more here.

Guess Who Was On Scrapheap Challenge?
Yes, I was recruited by the folks at RDF to act as an "expert" in the recently screened jet-cars episode of the very popular Scrapheap Challenge (aka Junkyard Wars) series.

Fellow "expert" Nick Haddock and I have produced a CDROM that contains a whole heap of information about our experiences on the show, along with lots of pictures, videos and plans that you can use to build your own jet-powered karts using either a pulsejet or turbojet.

See this page for more information.

Starting The New Pulsejet Engine
Despite what you see at the top of this page there is no need to worry, no bald people were harmed during the starting of this engine but it sure looks spectacular don't you think?

Fortunately, after a bit of tweaking, this engine now starts without the need for any kind of forced air -- amazing but true. Here's a very short video clip (1.1MB MPEG) that shows how it can be started simply by turning on the fuel. You can also see how much power this engine has by the way it flattens the grass in front of it.

Note that the full plans and extra constructional information for this engine are included in the final draft of my pulsejet book. (see below)
How Fast Does The Jet Kart Go?
Up until now I've just been guessing at the top speed of my jet-kart but seat-of-the-pants estimates can be rather unreliable so I fitted a GPS and took it out to a nice, long, straight piece of tarmac.
How fast did it go? Click here to find out.
New Pictures of my BIG Lockwood pulsejet
Check out new pictures of the biggest Lockwood pulsejet I've ever built and see if you can work out what I'll be using it for. The details are at the bottom of this page.
Coming Soon -- Jet-kart-Cam
As soon as the weather clears I'll be recording some onboard footage of the jet-kart in action and the onboard GPS will tell me exactly how fast it's going.
It'll be the next best thing to actually being in the driver's seat so find out more here.
A big thanks to the American Stirling Company who have kindly contributed towards the operational costs of this website and ongoing X-Jet development. Please check out their engines, their quiet but efficient operation is almost the complete opposite of a jet engine, which makes them every bit as interesting.

Support The Sponsor
>>>> Click HERE to find out what's new on the site
The $5,000 Cruise Missile
Visitors to this site might also be interested in another project (a spin-off from my X-Jet development work) that is now underway. See the Interesting Projects website for more info.
A No-weld Pulsejet

If you've always wanted to build a pulsejet but have no access to expensive welding or machining equipment then I've come up with a new design that anyone can build with just a few simple hand tools and readily available materials.
Check out the no-weld pulsejet page and watch for the plans to appear shortly.
Pulsejet Design Program Online
I'm currently working on a program that will automatically produce a set of plans for almost any sized pulsejet.
A preliminary version of this program is now online but is still undergoing changes and refinements so don't trust it just yet.
Rare V1 Videos Added
I've just added a couple of short clips of the V1 flying bomb to the Argus V1 page. The second one is very interesting as it shows a V1 with what appears to be flares or rockets on its wingtips.
Some New Video Footage
In response to many requests, I've edited a couple of small video clips of the Jet-kart in action and put them up on this page.
A Wooden Pulsejet?
Not really -- but here's some background on a simple 2D flow-modeling rig I've built to test some of my ideas. I've used it to verify the ideas behind my proposed Coanda-effect valveless intake system
Latest Addition: A New Valveless Intake System
Here's an idea I've been musing with which has application to the intake system of valveless pulsejet designs. I've posted a new page that explains how the Coanda effect might be used in the design of such engines.
Master Site Index Now Online
It's come to my attention that there are parts of this site that are not easy to find. So that you can check out every little nook and cranny, I've added a Master Index that includes direct links to every page. Check it out -- you never know what you might have otherwise missed!
Oh, and there's also a list of Frequently Asked Questions that is worth checking out if you've got any queries about pulsejet engines and their construction.
New Valve-head Design for Traditional Pulsejets

While X-jet development remains stalled due to a lack of funding, I've been applying my mind to the improvement of traditional pulsejet engines and have just posted a new page (NOW WITH PICTURES) that details another innovation.
This new valve-head and injection system has proven to be a very successful way of increasing the power, efficiency and valve-life of traditional petal-valve pulsejet designs as well as allowing the direct-injection of liquid fuels without the need for an expensive high-pressure pump.
As with the Blast Ring (which this new system effectively replaces), I'm placing this new design into the public domain so that others can use it freely. It is simple enough that it could be fitted to almost any existing petal-valved pulsejet, including engines such as the Dynajet, Tiger Jet and others.
Feel free to use this design in your own engines, all I ask is a little attribution where relevant.
This Site Is Looking For Sponsorship
If you're interested in perhaps sponsoring this site then click here.
23 June: You just have to see the latest Jet Kart picture I found!
The X-Jet To Go GPL?
Should I place the X-Jet and all the R&D work done on it to date into the public domain?